Outer Banks Average Air Temps by Month:
Spring: 65°- 75° | Summer: 75°- 85° | Fall: 65°- 75° | Winter: 50°- 60°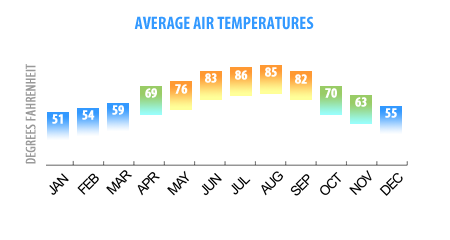 Outer Banks Average Ocean / Water Temps
Spring: 55°- 65° | Summer: 70°- 80° | Fall: 60°- 70° | Winter: 40°- 50°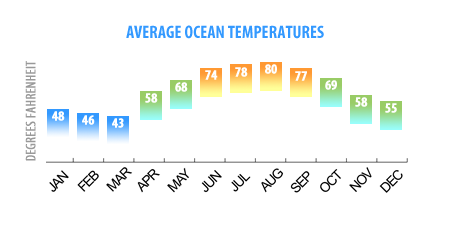 Message Board Topics
The Outer Banks offers ideal vacation temperatures in the summer season. Outer Banks weather is a combination of bright sunny days tempered by gentle ocean breezes. The area enjoys around 200 sunny days each year, with a year-round average hovering around 70°. Wind is an everyday occurrence on the Outer Banks, and can range from gentle southwest breezes to strong northeast storm winds. Otherwise the weather changes rapidly and can be very unpredictable.
The best time to visit the Outer Banks depends on your vacation budget, how well you can tolerate traffic, and what sort of weather you want. The peak travel season runs from Memorial Day to Labor Day. Empty-nesters, couples, fishermen and watersports enthusiasts head to the coast to take advantage of the warm weather and low weekly rates on Outer Banks rentals. That's when the rates drop and crowds disappear.
Well Done! You're ready for the best Outer Banks vacation ever!
Useful Links: